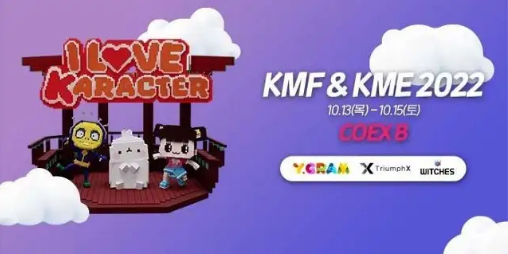 Metaverse marketing agency Y.gram (CEO Jeon Yoo-hyuk) will participate in the KMF & KME 2022 (K-Metaverse Festival & K-Metaverse Expo 2022) event held at COEX from the 13th to the 15th with TriumphX, a decentralized cross-chain platform developer.
Y.gram, whose headquarters are located in Suncheon, Jeollanam-do, is invited by the Jeonnam Information Culture Industry Promotion Agency to present the metaverse project 'I Love Karacters' at the JCIA publicity hall in the event hall. I Love Karacter is a project to build a metaverse character world that will be implemented on the gaming metaverse platform, The Sandbox, by using famous Korean character IPs. Y.gram produced the metaverse with Withces (CEO Go Mi-a), a VR and AR metaverse technology company, and TriumphX was in charge of renting The Sandbox Land, blockchain marketing, and rewards design.
Meanwhile, Y.gram has recently established a business model that presents a one-stop marketing solution based on understanding of web 3.0 and metaverse through a new vision called, Metaverse Marketing Agency. I Love Karacter is used as a metaverse model agency, allowing each character to act as a model for brands' metaverse events, brand promotion halls, and pop-up stores.
An official said, "The Sandbox, which is focusing as a publicity channel, will be the best promotion channel with 4 million global users and more than 400 partners. We will form a consortium with metaverse-related companies to gather experts from each field to present customized solutions for companies that want to market on the metaverse platform, such as expanding the market through education and consulting on Web 3.0, and building a media network optimized for metaverse."
By visiting the KMF & KME 2022 site, you can hear more detailed information in person with the Y.gram and TriumphX teams, and participate in a giveaway event prepared by the Jeonnam Information Culture Industry Promotion Agency.