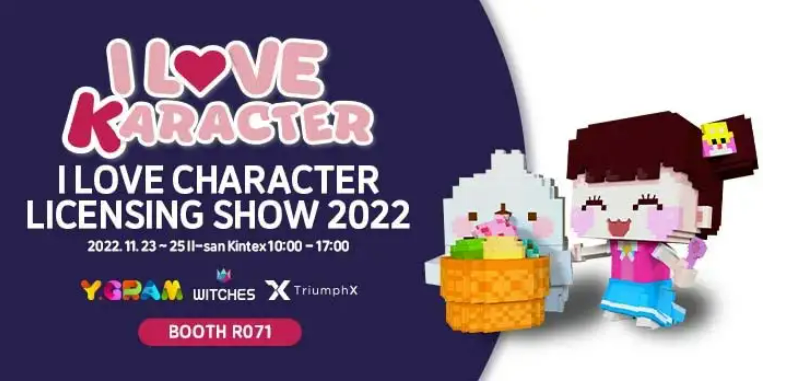 Metaverse marketing agency Y.Gram (CEO Jeon Yoo-hyuk) will participate in "CONTENTS KOREA 2022" to be held at KINTEX in Goyang, Gyeonggi-do, from November 23 to 25, and will introduce I LOVE KARACTER, on the global metaverse platform, The Sandbox. If you register your character IP in the I Love Character (ILK) project within the event schedule, through 10 IP lottery, you can receive one-stop support services from The Sandbox's Voxel characters, SOLAND production, and asset sales.
I LOVE KHARACTER (ILK) is a metaverse project that opens in collaboration with two partners: Witches (CEO of Go Mia), a VR, AR, and metaverse technology company, and TriumphX, a crosschain decentralized NFT platform developer. It is a metaverse model agency that collects representative Korean character IPs and supports them to be active in the metaverse. With the recent addition of Pucca, a total of 21 IP holders, including Molang, Dr. Egg, and Zombie Dumb, have joined. Popular characters in various fields such as animation, YouTube, and webtoons are lined up, drawing attention from the IP industry. Most of the characters will be mined into NFT and released on The Sandbox in December this year.
I LOVE KHARCTER (ILK) plans to build a model agency platform that allows anyone who has character IP as well as popular characters to register and operate IP as a metaverse model to follow the trend of 1 character per person. The platform is a structure that distributes profits from model activities to IP holders and IP investors based on blockchain compensation.
The CONTENTS KOREA 2022 event, which will be held this time, will be attended by a large number of content production companies and IP holding companies to develop products and services using IP. It is also an exhibition of content production solutions used in high-tech platforms such as AR, VR, and metaverse, so it is an optimal opportunity to introduce I LOVE KHARCTER to buyers who will play various roles such as models, promoters, and game modulators in metaverse.
An official said, "If promoting on metaverse itself is becoming a hot topic, now it is necessary to think about what role brand can play in the metaverse and what benefits and enjoyable experiences they can give to customers. Starting with 'ILK', we will create new brand experiences and business models in metaverse. In the future, we will provide technical support not only to The Sandbox but also to connect more metaverse so that IPs can work freely."
In addition, as a side event for CONTENTS KOREA 2022, the vision of I LOVE KHARACTER (ILK) will be announced at the Metaverse Marketing Conference 2022, which will be held at the business briefing stage from 3 p.m. to 5 p.m. on the 24th (Thu). Metaverse Marketing Conference 2022 is an event that shares marketing solutions with metaverse-related workers such as Microsoft and The Sandbox, and you can get insights on metaverse marketing.