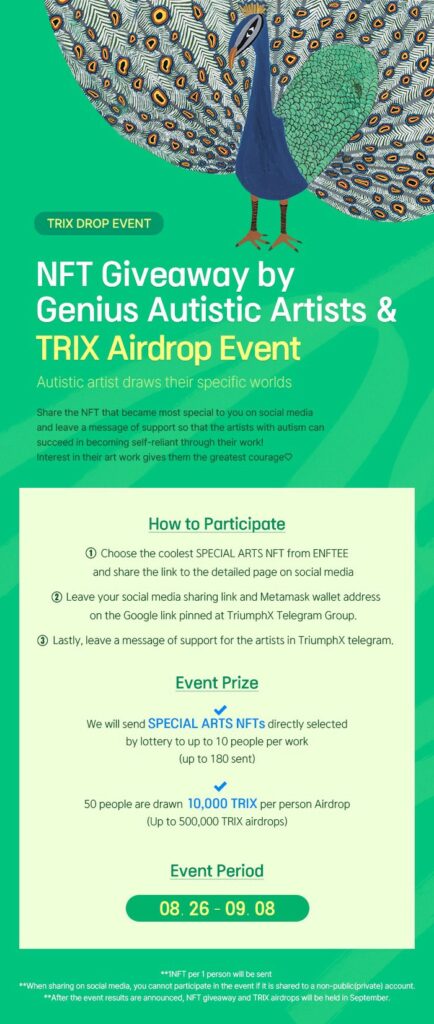 TriumphX, a developer of a cross-chain-based decentralized NFT platform, recently decided to add an airdrop event of TRIX tokens to the ongoing NFT giveaway event to commemorate the NFT launch of SPECIAL ARTS genius artists with autism. said he did A total of 50 participants will be selected by lottery among the event participants, and 10,000 TRIX will be airdropped per person.
According to TriumphX, as soon as the SPECIAL ARTS NFT #1 edition was opened, more than half were sold, and in particular, the works of artist Choi Cha-won (C. In response, TriumphX announced the purpose of the event that it decided to airdrop additional TRIX tokens to introduce artists and works of special art to more collectors and to promote NFT.
There are three steps to participating in the event. First, choose your favorite NFT from ENFTEE's SPECIAL ARTS gallery and share the detailed page on social media. Second, leave the social media sharing link and the metamask wallet address on the Google link pinned to the TriumphX Telegram. Third and last, leave a message of support for SPECIAL ARTS artists on the TriumphX Telegram. The event participation period is until September 8th.
Participants in the event will receive a special art NFT of their own choice to up to 10 people for each work through a lottery, and a maximum of 180 NFTs will be sent. In addition, an airdrop of TRIX tokens will be conducted separately through a lottery.
Meanwhile, TriumphX is exhibiting the works of special art artists released through NFT through ENFTEE's virtual reality exhibition 'The Vision'. 'The Vision' was designed as an NFT exhibition space that is always open to those who could not see the exhibition due to time and space constraints.