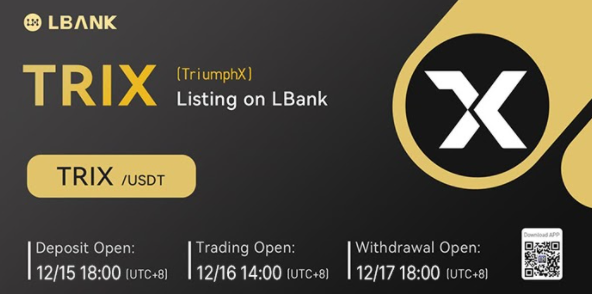 The TRIX token of TriumphX, a developer of a cross-chain-based decentralized NFT platform, announced that it will be listed on the USDT market on the 16th (Thursday) at 2 PM Korean time on LBANK, a global virtual asset exchange.
TriumphX supports cross-chain functions based on Ethereum and Klaytn, and operates an NFT issuance platform and marketplace. TriumphX has shown an unrivaled step in the field of NFT art in particular, and has launched various NFT series by recruiting famous domestic and foreign artists and influencers in the art world. In addition, through alliances or collaborations with World Vision, E-Mart, KFC Korea, and Special Art, various promotional strategies are presented through NFT, donation culture, and environmental campaigns have been continued.
Recently, by expanding the business and platform operation experience so far, it is expanding its scope to other fields such as sports and games in addition to the art field. In particular, starting with the partnership with The Sandbox, they are focusing their efforts on entering the metaverse ecosystem.
TriumphX also launched the Decentralized Metaverse Alliance, centered on its own, to build a more efficient and extensive metaverse integration ecosystem. The remake of Cyworld, the original metaverse, CyClub, Tencent, Google, and other IT companies, such as DeFi Monster, a professional blockchain developer, develop over 60 games, including PC, online, console, and mobile. It is forming a strong network with various specialized companies such as DeGeneration X (DX), a game developer that has been providing services.
LBank is a virtual asset exchange located in the top 20 in the global market based on CoinMarketCap spot trading volume. Deposit of TRIX tokens is possible from 6pm on the 15th (Wednesday), and trading is possible from 2pm on the 16th (Thursday).