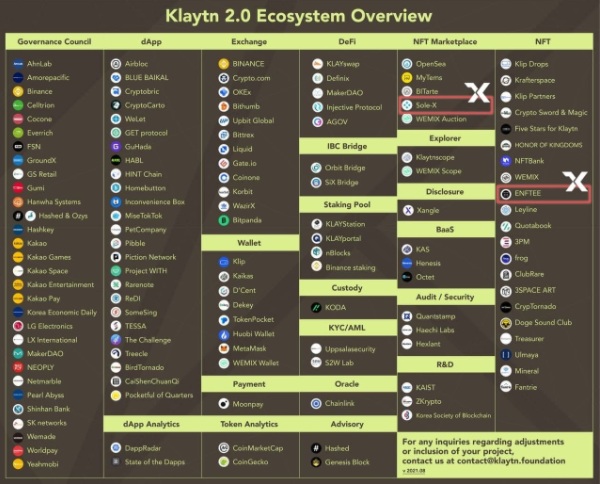 TriumphX, a developer of a cross-chain-based decentralized NFT platform, announced that it was introduced as a top-tier partner in the recently announced Klaytn 2.0 ecosystem NFT field.
Klaytn is a distributed application platform developed by Ground X, a blockchain-related subsidiary of Kakao, and is a blockchain to create a diverse scalable ecosystem like Ethereum. Klaytn released the mainnet Cypress on June 27, 2019 as an open source method, allowing anyone to freely participate and use it. Klaytn has demonstrated breakthrough processing speed (4000TPS) and scalability as its strengths, and based on this, it has successfully recruited numerous individuals and project unit participants. Accordingly, Klaytn announced the Klaytn 2.0 ecosystem on the official Twitter channel on August 13th.
Klaytn's latest ecosystem announced this time consists of various items such as Governance Council, dApp, Exchange, Wallet, payment, DeFi, and NFT, and a total of more than 130 top-tier companies are introduced. Among them, TriumphX has introduced Sole-X in the NFT Marketplace and ENFTEE in NFT respectively.
ENFTEE is TriumphX's NFT issuance platform. TriumphX has signed contracts with famous writers, IPs, and brand companies, and is releasing various high-quality contents as Klaytn-based NFTs. Sole-X is TriumphX's NFT marketplace and supports the free trade of NFTs between individuals. Meanwhile, Triump X's NFTs issued on the Klaytn basis are currently being exposed simultaneously in OpenSea, the world's largest NFT marketplace and one of the partners of the Klaytn ecosystem.
A TriumphX official congratulated, "The recently announced Klaytn 2.0 ecosystem has achieved remarkable growth in the global market in a short period of time, which has greatly contributed to the popularization of blockchain." will contribute to expanding the Klaytn ecosystem from the inside out by publishing more diverse high-quality content as Klaytn-based NFTs, and also contribute to attracting users of Ethereum and other chains from outside into the Klaytn ecosystem through the cross-chain function. " he said.