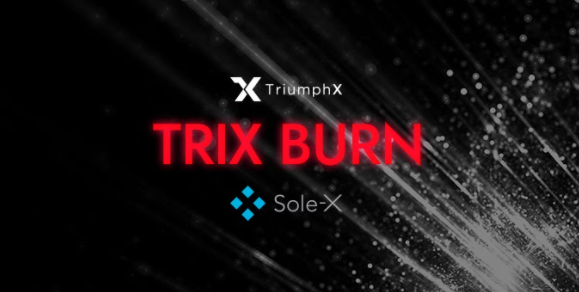 TriumphX, a crosschain-based decentralized NFT platform developer, announced on the 7th (Friday) that it has completed incineration of TRIX tokens, which account for 50% of platform transaction fees incurred at Marketplace Sole-X in 2021.
TriumphX explained that the incineration of the TRIX token was implemented in accordance with the Sole-X platform fee incineration policy announced in July last year.
Sole-X currently supports transactions through TRIX, KLAY, ETH, and USDT, and the 50% incineration of transaction fees includes all fees incurred in transactions using four types of crypto assets, including TRIX. However, in the case of fees incurred by crypto-asset transactions other than TRIX tokens, TRIX tokens, which account for 50% of the total fees, were pre-backed and then incinerated.
Sole-X, NFT Marketplace, is a Clayton-based blockchain platform that deals with individual sales of NFTs based on materials of various genres such as illustrations, painting works, installations and sculptures, and photographs.
Sole-X is launching the NFT series of famous domestic and foreign artists and influencers through ENFTEE, where high-quality content by individuals and second transactions are available.
Meanwhile, TriumphX is currently developing the NFT issuance platform ENFTEE version 2.0 and Marketplace Sole-X version 2.0 to create a safer and more reliable decentralized NFT trading environment. More detailed news will be provided in the future.