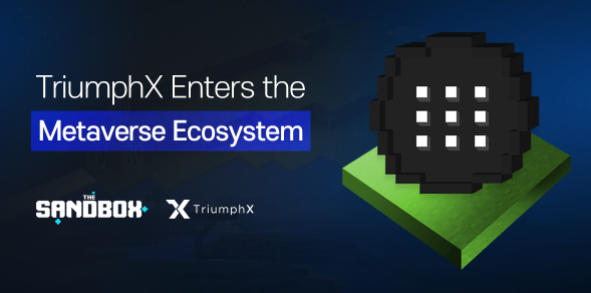 TriumphX, a developer of a cross-chain-based decentralized NFT platform, announced that it is expanding the existing NFT ecosystem to Metaverse through a partnership with The Sandbox, a blockchain-based NFT metaverse game platform.
The Sandbox is one of the most representative metaverse platforms. Users can freely create their own characters and items within the platform. The Sandbox applies blockchain and NFT technology to this, and through the function of verifying the ownership of each of the virtual space LAND and various creations, the metaverse is not a metaverse as a virtual space separated from reality, but a metaverse as another new reality.
TriumphX will be assigned with the LAND in the next round through a partnership with The Sandbox. TriumphX is planning to create a 'virtual gallery', a metaverse space using NFT, on this land.
Accordingly, TriumphX is expected to create an NFT ecosystem in the art field within The Sandbox on the one hand, and pioneer an advanced NFT business through the metaverse on the other hand.
Since the virtual gallery is a metaverse space, it provides users with an experiential service similar to viewing works in an actual exhibition hall. In addition, users can purchase the NFT they want in the metaverse space. In addition to this, TriumphX is actively seeking ways for users to engage in more diverse activities in the metaverse space, such as casual games, and to obtain benefits in the metaverse space. In addition, TriumphX plans to donate a portion of the profits generated within The Sandbox ecosystem through World Vision.
An official from TriumphX said, "We are making various attempts to present a new format of NFT in line with the rapidly evolving blockchain ecosystem, and we expect that this partnership with The Sandbox to advance into the metaverse will be a good result of our efforts. In addition, in order to actively satisfy the diverse needs of NFT collectors, we are working hard to expand the content to sports in addition to the existing business field of arts, and we will announce the news with more specific content in the near future."