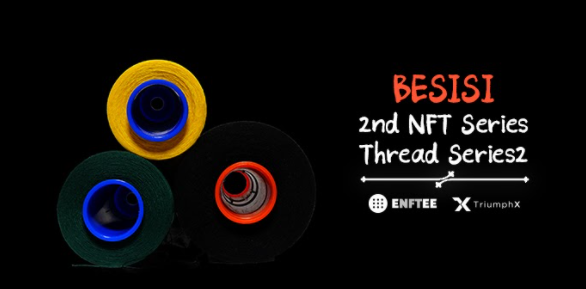 TriumphX, a developer of a cross-chain-based decentralized NFT platform, announced that it will introduce artist BESISI's second NFT series "Thread Series 2" to ENFTEE.
BESISI is a veteran artist who is actively working in Korea and Japan. After graduating from the Department of Art Education at Sungkyunkwan University, she went to Musashino Art University and graduate school in Japan, and then completed the doctoral course at Kyoto City University of Arts. Since then, the artist has been working internationally for over 20 years, including Japan and Korea, Europe, the United States, and India and so on. She opened numerous exhibitions and art fairs, starting with the first solo exhibition of 'The Paintings of Master White' in 2004, based in Kyoto.
At the 2019 international photo art festival 'Kyoto Graphic KG+', she was selected as one of the 12 artists and received favorable reviews for her work that reinterpreted the stories of Japanese people who were born and raised in colonial Joseon. BESISI was the only Korean artist among the 12 artists.
Also, on the 24th of last month(Fri), she submitted the work "Echoing" to the NFT auction of the Seoul Art Show held at COEX in Seoul and received a successful bid.
The NFT series presented by BESISI at this time is "Thread Series 2". This is a sequel to the first series and consists of the artist's unpublished works, which are the basis of the artist's recent research activities and photographic works.
'Thread' is one of the main materials of BESISI's works. The intricately intertwined threads are a metaphor for the complex history of both Koreas and Japan, and at the same time a reflection of the fierce lives and relationships of individuals who had to live in the space of that time. The artist intends to unravel the discourse of 'relationship', which cannot be easily brought out in the current situation of the two countries, which are at sharp contrasts, using works of art as a medium and metaphors of knots.
Artist BESISI 's second NFT series, "Thread Series2", is limited to 10 editions of 11 works each, and the 1st edition will be presented through ENFTEE. It can also be found on the marketplaces Sole-X and OpenSea.