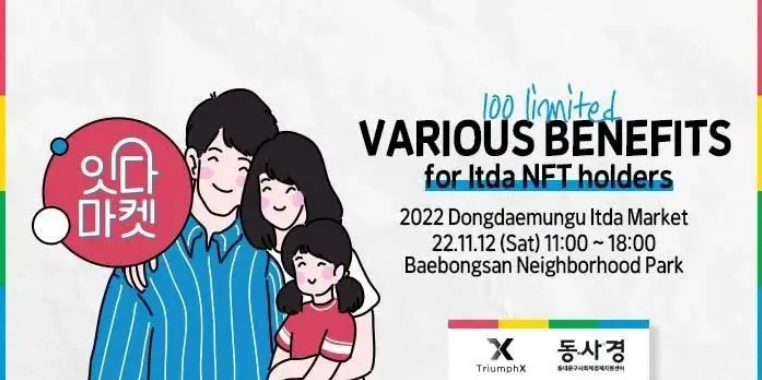 Dongdaemun-gu Social and Economic Support Center (hereinafter referred to as 'Dongsakyung Center', director Choi Geun-young), signed a partnership with TriumphX, a decentralized cross-chain platform developer, to hold "Itda Market", to promote the products and services of local merchants for the growth of the local economy. It will be held on November 12 at the open square of Baebongsan Neighborhood Park.
Itda Market is the largest flea market in Dongdaemun-gu, and is a representative local marketplace visited by an average of 5,000 residents. The purpose of this event is to expand the community of Itda Market in connection with pre-marketing using NFT and online/offline experience.
The Dongsakyung Center will issue a limited number of 100 NFTs, and will provide 100% of purchase coupons worth KRW 3,000 to those who prove NFTs and the benefits of 3 free trial experiences at the Itda Market.
Itda NFT utilizes KakaoTalk Clip Wallet so that anyone can easily apply for it. You can apply for NFT on Itda Market Instagram (@itda.market) or visit https://bit.ly to apply from October 20 to 31. TriumphX is in charge of issuing the NFTs and designing the benefits of Itda Market.
In 2022, Itda Market not only provides various benefits to local residents through the use of NFT, but also sells products from local sellers, and operates a program with the concept of family outings, such as free photo shoots of Idda cut, drawing a village map, and a resource circulation play zone.
In addition, local residents will be given coupons that can be used to purchase products when bringing a certain amount of transparent plastic containers and waste milk packs to the market, and a separate flea market will be operated to hold resource circulation events to protect the environment.
A TriumphX official said, "We want to show NFT cases that are used in real life, not just for investment purposes. Starting with this NFT, we will plan and create various NFT and metaverse projects for local community development with the Dongsakyung Center." Meanwhile, the Sandbox creator training Program is in progress with the Dongsakyung Center, and it is considering education and popularization of the blockchain ecosystem such as planning a new metaverse PD course next year.