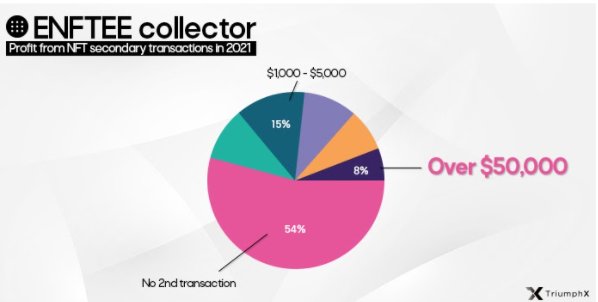 ENFTEE, a NFT (non-fungible token) curation service, conducted a New Year's survey event from their collectors. TOP collectors who participated in the survey were given Lee Mok-Ul's NFT, who is the master of Korean hyperrealism art who can also be found in elementary, middle, and high school textbooks.
When they asked about the purpose of NFT purchase and secondary transactions, the tendencies of the collectors were divided into two groups. 50% of the collectors purchased to collect their favorite artists or works, and 43% purchased for the purpose of getting profits through secondary transactions.
This result was similar to the answers of the questions related to secondary transactions. Over the past year, 54% of collectors said they did not attempt secondary transactions, while 15% said they made profits of between $1,000 ~ $5,000, and 8% made more than $50,000 through secondary transactions.
57% of the collectors were novices who purchased NFT for less than $1,000, followed by 21% who said they purchased NFT in a range of $10,000 ~ $50,000 last year through various NFT platforms.
In addition, some of the positive evaluations of ENFTEE were the introduction of NFTs of various genres and artists, sales of good NFT works in rather low-priced editions, expectations of potentials of newly discovered artworks, and increase of value for the projects. Many overseas collectors answered that the biggest strength was that they were able to discover the works of various Korean artists.
Most of the shortcomings of ENFTEE were about the system such as slow speed and errors, and inconvenience in the process of transferring NFT to the wallet. TriumphX, a developer that operates ENFTEE, will soon introduce a developed UI and fast updated version of ENFTEE 2.0 through an enhanced and stabilized server reflecting user opinions in this survey.
An official from ENFTEE said, "Through this survey, we learned that our main targets are NFT beginners who are not familiar with NFT but love the art, and the second targets are experienced collectors in NFT transactions. ENFTEE 2.0 will focus on helping NFT novice fans access NFT art more easily and enhance their perspective. We will prepare new events so that all collectors can access and experience various art contents. Above all, we will provide benefits to collectors who have been with us from the beginning."
Meanwhile, according to the NFT market analysis platform Nonfungible.com, about 30 million transactions have been made over the past year with a global NFT transaction volume of $20B (about 24 trillion in Korean Won). In the past year, NFT has become the most notable market, accounting for 99% of the total NFT transactions made since 2018.
The detailed results of ENFTEE's survey, which opened the NFT art platform last year and has a one-year operating know-how, can be found on ENFTEE's official blog.