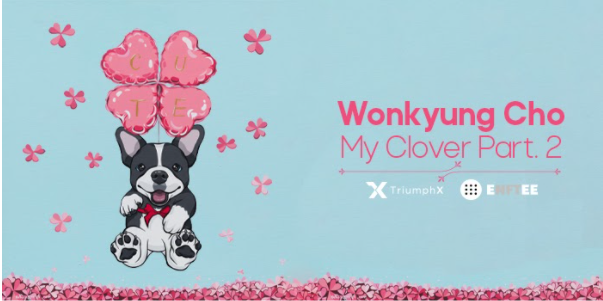 TriumphX, a crosschain-based decentralized NFT platform developer, introduced Wongkyung Cho as the new artist of enftee.com and released her first NFT series "My Clover Part.2."
Wongkyung Cho's first NFT series "My Clover Part. 2" tells a story of the "red string of fate" of those that are destined to meet, will meet someday, and connects to how people meet with their pets, and how it is a luck and destiny for them. The positive message written on a four-leaf clover balloon connected with a red string to the dog tells the story of gratefulness and treasured relationship with the pets. The series consists of a total of three works and will be introduced in up to 30 editions each through ENFTEE.
Wongkyung Cho pursues visualization of scent through the subject of flowers, as she tells the stories of dogs that communicate with the world with their sense of smell. In the past, a dog used to be tied to a leash outside the house, but now it lives inside the house with people. Therefore, for the artist, dogs are like fragrant beings and flowers.
This special affection for her dog also appears in her works. Wonkyung Cho had numerous exhibitions such as "Walking Only the Flower Road" at Starfield Hanam and AnSeong, the individual exhibition "Natural Dog in JeonJu" invited by Sori Arts Center of Jeollabuk-do, and "MY PET" from Print Bakery by Seoul Auction Exhibition.
She also drew illustrations for various TV programs such as SBS TV Animal Farm, MBC Haha Land, True Story Exploration Team, and Sky Pet Park Season 2. Also in 2017, she published a book titled "My Dog, I'll Draw for You."
Wonkyung Cho delivers a message through the author's note, saying, "To me, my dog is my life companion and my best friend. It comforts me just by being next to me."
Meanwhile, TriumphX said it is currently developing NFT curation service ENFTEE version 2.0 and Marketplace Sole-X version 2.0 to create a safer and more reliable decentralized NFT trading environment.