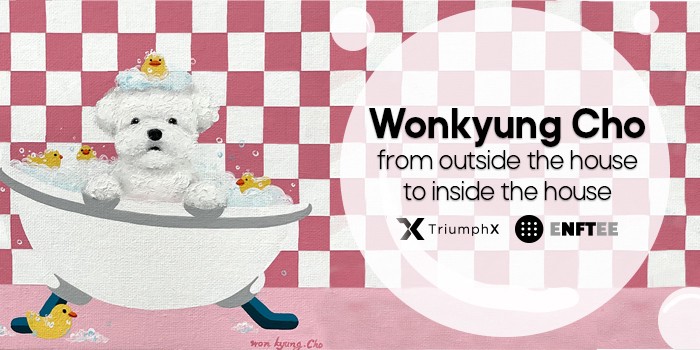 TriumphX, a cross-chain-based decentralized NFT platform developer, has released Wonkyung Cho's second NFT series "from side the house to inside the house."
Wonkyung Cho recently released her first NFT series "My Clover Part. 2," a series based on pets and four-leaf clover balloons, through ENFTEE and was selected in the best works.
The second NFT series "from outside the house to inside the house," which will be released this time, also features a happy appearance of a dog. The series consists of a total of three works and will be published through NFT in up to 30 editions each.
In this series, she expressed the daily lives of happy dogs. In the past, they were tied to a leash outside the house and protected at home, but now they live freely and happily with people inside the house.
Wonkyung Cho's such special love for dogs is well known not only in her work world but also through various activities. She drew illustrations for several TV programs, including SBS TV Animal Farm, MBC Haha Land, True Story Exploration Team, and Sky Pet Park Season 2. Also in 2017, she published a book titled "My Dog, I'll Draw You."
Meanwhile, TriumphX is currently developing NFT issuance platform ENFTEE version 2.0 and Marketplace Sole-X version 2.0 to create a safer and more reliable decentralized NFT trading environment, and plans to deliver more detailed news in the future.