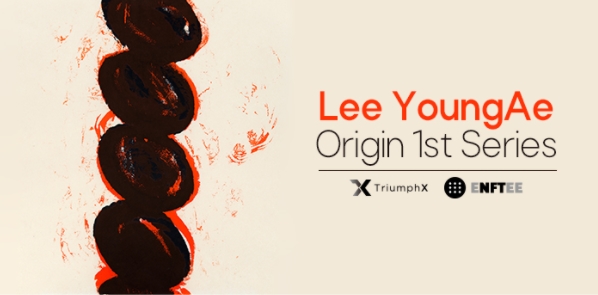 TriumphX, a crosschain-based decentralized NFT platform developer, introduced  Lee YoungAe released her first NFT series "Origin 1st Series" through enftee.com.
Lee YoungAe's first NFT series "Origin 1st Series" consists of a total of 6 works: 4 works worked on canvas in 2017, and 2 works worked on hanji (the Korean paper) in 2022. Each work consists of up to 35 editions and will be introduced sequentially through ENFTEE.
Origin 1 and 2, the works that make up the series, represent the spiritual practice or prayer of stacking stones or the essential image of human beings; leopard and giraffe flowers represent the appearance of leopards and giraffes as images of flowers. In addition, the work King symbolically expresses the powerful power of men in a thumb-shaped frame, and the work queen contains the meaning of Lady First in a number one-shaped frame.
Lee YoungAe is actively engaged in various exhibitions, including the 2018 Asia Contemporary Art Show at the Conrad Hotel in Hong Kong.
The artist intends to convey rich sensibilities of human beings to the audience by using a combination of Eastern and Western styles and materials such as canvas, hanji (the Korean paper), sumi ink, acrylic paint, japanning, etc. She often uses circles, straight lines, and oblique lines in her works, and this is because the work activities that convey human emotions should be the most fundamental form of journey, and the means of expressing them should also be composed of the smallest unit of art. With this unique technique, the various human emotions expressed in her works are shown in plain visual language.
Meanwhile, TriumphX said it is currently developing NFT curation service ENFTEE version 2.0 and Marketplace Sole-X version 2.0 to create a safer and more reliable decentralized NFT trading environment.