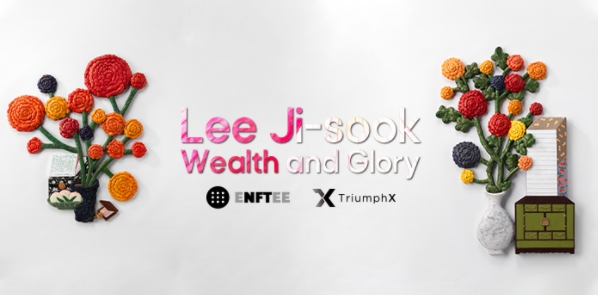 TriumphX, a crosschain-based decentralized NFT platform developer, introduced Lee Ji-sook and her first NFT series "Wealth and Glory" through enftee.com.
Lee Ji-sook's first NFT series "Wealth and Glory" consists of works introduced in Lee Ji-sook's recent individual exhibition held at ArtVerse KAF Gallery. The NFT series consists of a total of 6 works, and 5 of them will be dropped up to 100 editions, and one work will be up to 1000 editions.
Lee Ji-sook is a veteran artist who is actively engaged in her work, including 22 individual exhibitions and more than 300 group exhibitions. She has done her residency at Yeongeun Creative Studio, and her works are collected by the Art Bank, Gyeonggi Museum of Art, YTN NEWSQUARE, and Yeongeun Museum of Art.
Lee Ji-sook is known as a master of terracotta techniques. She makes a shape out of soil and bake it at over 1,000 degrees. Then, she colors with acrylic paint. This unique technique shows an exquisite harmony with the artist's world of work, which reinterprets old book painting in a modern way. The object, material, expression technique, and message of the work are all in perfect harmony.
Through this series, the artist conveys the message that the meaning of wealth and honor is not large and great, but found in the small things of life in daily life.
After reading the book "Zorba the Greek", the artist realized that happiness is simple and small like a glass of wine, a grain of chestnuts, a shabby oven, and the sound of the sea. She conveys the happiness of the color, shape, and the scent through flowers.
Lee Ji-sook has more than 20 years of experience using the most difficult pottery technique that makes her work's price range of over $60,000. This NFT series is an opportunity to collect her works for less than $700.
Meanwhile, TriumphX said it is currently developing NFT curation service ENFTEE version 2.0 and Marketplace Sole-X version 2.0 to create a safer and more reliable decentralized NFT trading environment.