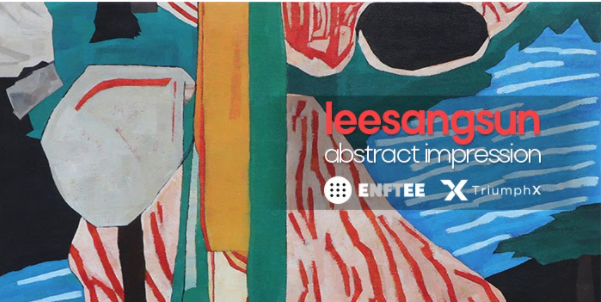 TriumphX, a crosschain-based decentralized NFT platform developer, introduced leesangsun and his first NFT series "abstract impression."
leesangsun's first NFT series "abstract impression" consists of three works that were exhibited in his individual exhibition held at Gallery Artbit in January 2022. Each work consists of up to 100 editions and will be introduced sequentially through ENFTEE.
leesangsun graduated from the Stuttgarter Kunstakademie Aufbaustudium in Germany, and has been actively involved in more than 20 solo exhibitions and numerous installation projects and group exhibitions, and also participated in a residency in Beijing.
His works were collected by numerous domestic and foreign collectors, including Namhae Art Center, Art Bank, Hypo-Bank Stuttgart (Germany), and SAAB Leonberg (Germany).
His 'abstract impression' series reminds of impressionist painters who experimented to capture the instantaneous impression of a real landscape, while it also recalls historical abstract painters who focused on the artist's own cognitive process and expression rather than the impression of the landscape.
The non-single attributes of nature's color captured by leesangsun's gaze are expressed in limited colors. Yet, the audience who faces his works will look at the painting in various perspectives of colors, and they will be able to experience a new perspective and acceptance of the landscape. This is consistent with the artist's description in his note saying, "there is no intended subject, but I hope that the audience will draw out their own intimate sensibility from the work."
Meanwhile, TriumphX said it is currently developing NFT curation service ENFTEE version 2.0 and Marketplace Sole-X version 2.0 to create a safer and more reliable decentralized NFT trading environment.