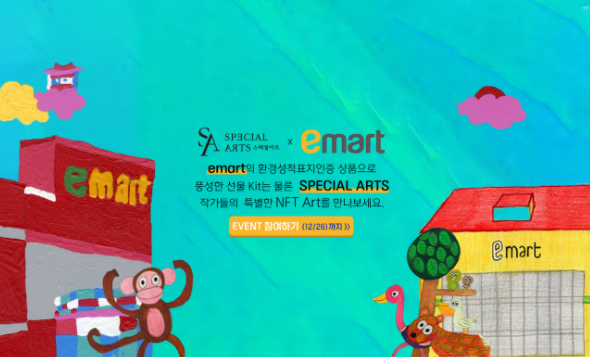 ENFTEE, the NFT platform operated by TriumphX, an eco-friendly NFT drop event jointly conducted by emart and SPECIAL ARTS has been opened. Participation in the event is possible until November 26 (Sun).
This event of E-Mart is to promote the 'Environmental Labeling Certification System', which is to make a system by quantitatively displaying the environmental impact of the entire process, from production to distribution, consumption, and disposal, to promote a better tomorrow's global environment.
SPECIAL ARTS, a social enterprise that supports the cultivation of artists with developmental disabilities, will also participate in this event. The three artists of SPECIAL ARTS, KevinKang, Jaewon Kim (JAEWON), and Taegyu Lee (TAG100), produced works with the theme of a healthy and clean earth with E-Mart.
There are two parts to this event. One is to leave a comment on the correct answer to the initial quiz of eco-label certified products on E-Mart's official social media. A total of 100 people selected through a lottery will receive a product kit worth 35,000 KRW for environmental labeling certification.
In the other one, participation is possible by photographing 24 products newly certified for environmental labeling at a nearby E-Mart or No-brand store and authenticating them on one's social media account. Of course, it doesn't matter if you take a picture of the environmental label certification product you received as a gift from the first event and authenticate it on social media. A total of 3 people selected through a lottery will receive special NFT works by SPECIAL ARTS artists.
Through the ENFTEE.com promotion page, you can find out more about the event and see NFT works from special events by SPECIAL ARTS artists in advance. However, this NFT will be issued only as one edition for each work, and will be presented only through participation in the event, not through purchase.